Post by Remi on Nov 26, 2007 6:05:59 GMT -5

I thought this was really funny, and sweet.
Sunday, November 25, 2007 << Previous Next >> * Post a Comment
Teen famous locally for looking famous
Platteville student appreciates comparison with actor Owen Wilson
By EMILY KLEIN TH staff writer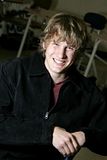 Photo: Jessica Reilly
Tenth-grader Nick Baker, of Platteville, Wis., has been told he resembles actor Owen Wilson.
PLATTEVILLE, Wis. -- For 16-year-old Nick Baker, hearing that he looks like his idol, Owen Wilson, was the compliment of a lifetime.
The Platteville High School sophomore said about a year ago, his dad pointed out to his mom that their son looked remarkably similar to the actor.
"I was like, 'Oh, Owen. Cool.'" Baker said. "I think he's the bomb."
After that, the comments and flattery started rolling in at school. Baker's shaggy blond hair, piercing blue eyes and infectious laugh were getting him noticed.
"(People at school) were just like, 'Hey cutie, hey Owen,'" he said.
Baker has seen Wilson's movie "Zoo-lander," which pokes fun at the world of high-fashion male models, more than 10 times.
His parents, David and April Baker, said Nick's laid-back personality only adds to the similarities.
"A big part of it, I think, is the attitude," April Baker said. "The way he carries himself -- he's just so Owen Wilsony."
Baker said he even catches himself talking and acting like the characters in "Zoo-lander."
"Nick is funnier and better looking than Owen Wilson, but we still appreciate the comparison," his dad said.
His classmates say there is one thing that Nick lacks in common with the actor: Wilson's signature broken nose.
"That's a very distinctive nose," Baker said.
Many of Nick's friends have offered to help him gain that edge with a quick punch to the face, but the Platteville teen said he has turned them all down.
He certainly doesn't mind all of the attention. In fact, he joined theater this year in hopes of developing his own acting skills.
But his true passion is music, he said. The high school student loves to play the drums and also dabbles in guitar. He has even taken a singing role in this year's school musical.
Someday, Baker said he wouldn't mind trying to make a name for himself in Hollywood. Perhaps it will be Young Owen.
"I don't know about that, but I do know that it is a full-time job keeping the girls at bay right now," April said.
Source