Post by ozarka on Sept 11, 2005 14:01:08 GMT -5
Posted on Sun, Sep. 11, 2005


Avedon's shadower recalls quest for 'terrifying' beauty
By GAILE ROBINSON
STAR-TELEGRAM ART AND DESIGN CRITIC
DALLAS - Twenty years ago, Richard Avedon was speaking to a crowd that filled Fort Worth's Scott Theatre, explaining the roots of his project "In the American West." He reminisced about his first meetings with the Amon Carter Museum's founding director, Mitchell A. Wilder, who suggested that Avedon, a native New Yorker, might need someone to help him navigate the nation's backwaters. Avedon recalled the person Wilder had in mind, an "extremely elegant and beautiful woman." He didn't say her name; there was no need. She was with him on that stage. She was at his side when he made his infamous portraits. And she was there again when he succumbed to a stroke in October.
Laura Wilson, 66 years old, is extremely elegant and beautiful. She's the sort of woman who makes other females feel insecure. In her presence, they know they are wearing too much makeup; she doesn't wear any. They blither; she is succinctly direct. On a recent day in Dallas, where Wilson has lived since the late '60s, she's dressed in a thin skin of spandex and she wears it better than women a third her age. This, too, goes guiltily noted.
The foyer of her home is a gallery filled with black-and-white photographs. Most of the work is hers, some of it is by more famous names -- Avedon, Bruce Weber and Henri Cartier-Bresson -- but there is no unevenness in quality. Many of the photos are of Wilson's sons, Hollywood hunks Andrew, Owen and Luke. The record of their childhoods is played out next to faces now less famous than their own.
It was her husband, Robert A. Wilson, owner of a graphic design and communications business, who had the connection to the Amon Carter Museum. At the time, he was the head of public-affairs programming for KERA/Channel 13 and happened to be working with the Carter when Avedon made the cover of Newsweek. Wilder and Wilson wondered whether the photographer, known for his luscious fashion shots and portraits of luminaries, would do a project with them. Introductions were made, meetings took place, and Avedon agreed to their pitch.
He readily accepted Laura Wilson as his Sacagawea. She would scout the locations, wrangle the hesitant, keep the notes and, all the while, photograph the photographer. They began a five-year odyssey, traveling to wherever there were large gatherings of people.
Wilson remembers that Avedon did not like to talk about the mechanics of his work, the film speed or F-stops. But as they crossed the country, he would try to explain what sort of people he was seeking. "He said he was 'looking for people who are surprising, heartbreaking or beautiful in a terrifying way. Beauty that might scare you to death until you acknowledge it as a part of yourself.' "
"We would walk around together," recalls Wilson. "We were always looking. I would see someone or he would see someone, and he would say, 'What do you think about that person?' I would approach them. It is easier for a woman to approach another woman, and it is easier for a woman to approach a man. I would say, 'Do you mind if we take a picture of you? This is for an exhibition.' One person in five years turned us down."
Wilson kept notes on their travels, the people they photographed and the conversations that took place. "I had a clear notion at the time I was working on something very important."
The last stop on Avedon's tour of the West was the Texas State Fair in 1984. For days, as the pair looked into faces and watched people, Avedon rejected them one after another, feeling he had already photographed someone who looked like that. "We hardly found a single person," she says.
It was then that he knew the project was finished. Wilson boxed up her negatives and notes, began a book of her own, and the years passed. Her photographs were published in the books Hutterites of Montana and Watt Matthews of Lambshead, and she accepted assignments from The New York Times, The Washington Post and London's Sunday Times, as well as The New Yorker.
It took a nudge from Avedon to set her in motion. "di*k called me in April of 2001 and said, 'Laura you've got all this work, and you wanted to do a book. I'm urging you now to do it.' "
Two years later, her Avedon at Work: In the American West was published. In the book's foreword, Larry McMurtry writes, "She shadowed the Shadower and showed us as much as can be shown of how his work was done."
An exhibit of her photographs, "Laura Wilson: Avedon at Work" went up Saturday at the Carter. It will run through Jan. 8.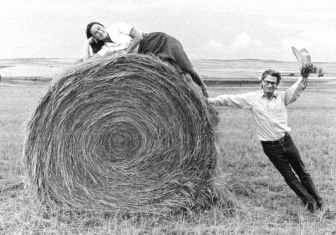 Laura Wilson with Richard Avedon in a shot from her behind-the-scenes book, Avedon at Work: In the American West.
RUEDI HOFMANN